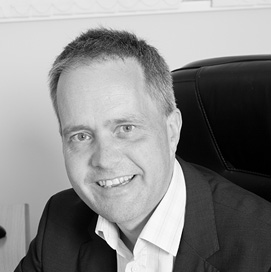 Education
BSc(Hons) MB ChB FRCS(Tr and Orth) MPhil
Specialities
Primary total knee replacement, Primary unicondylar (partial) knee replacement, Primary patello-femoral replacement, Revision knee replacement
Areas of Interest
Knee surgery, knee arthroplasty (replacement) including total and partial replacement, knee injury, knee arthroscopy including anterior cruciate ligament reconstruction, patellofemoral (knee cap) disorders including dislocation and arthritis.
About
Mr David Sands Johnson has been a Consultant orthopaedic surgeon since 2001, and has a practice almost exclusively within knee surgery.
David graduated from St. Andrews then Manchester University. His orthopaedic training was undertaken within the North West (Manchester) region, where he undertook a fellowship in knee surgery. He also graduated with a Master of Philosophy degree, from the University of Salford, following research into the outcomes of knee surgery. His research interests in the field continue, having also been awarded an Honorary Professorship at the University of Salford and Honorary Senior Lecturer post at the University of Manchester.
David has a wide experience of the treatment of all types of knee complaint. The commonest knee problems he treats are sporting injuries (including cruciate ligament tears), cartilage tears, osteoarthritis and rheumatoid arthritis. The commonest procedures he performs include knee arthroscopy, anterior cruciate ligament (ACL) reconstruction, total knee replacement and uni-compartmental (partial) knee replacement. The implants for knee replacement surgery he currently uses are the PFC Sigma knee (DePuy), the Avon patello-femoral replacement (Stryker) and the Oxford uni-compartmental knee replacement (Biomet). He also has an interest in complex knee replacement surgery, multiple knee ligament injuries and surgery for instability of the patella-femoral (knee-cap) joint. He accepts referrals for paediatric patients (over the age of 12 years with knee injuries / problems).
Teaching forms part of David's routine work, involving education of all grades of junior doctors, medical students, as well as non-medical staff. He also teaches on a number of local and national courses relating to knee surgery. He has recently become the NW orthopaedic specialist trainee research coordinator.
David is the Chair of the Greater Manchester Orthopaedic Alliance (GMOA), an organisation led by clinicians to improve care delivered within Greater Manchester, which is hosted by the Manchester Academic Health Science Centre.