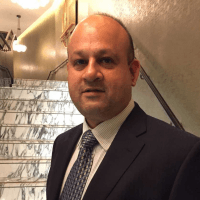 Education
MBBS, FRCS (Tr & Orth)
Specialities
Hip, Knee
Areas of Interest
Knee pain, Joint pain, Soft tissue reconstruction, Degenerative knee disorders, Anterior knee pain, Knee arthroscopy, Lower limb trauma, Carpal tunnel syndrome, Lower limb arthroplasty, Joint injection, Revision surgery (orthopaedic), Cartilage repair, Joint disorders, Hip disorders, Knee replacement surgery, Ligament reconstruction including anterior cruciate ligament, Knee surgery, Hip replacement surgery, Joint replacements, Arthroscopy, Sports injuries, Total knee replacement, Total hip replacement, Osteoarthritis, Fractures
About
Mr Pankaj Sharma is a Consultant Orthopaedic and Trauma Surgeon at Manchester Royal Infirmary, specialising in sports injuries and arthritis of the hip and knee joint. Mr Sharma qualified in Medicine from Guys and St.Thomas's Hospital Medical School in London. His early surgical training took place in Cardiff and London.
He was subsequently appointed as a Specialist Registrar in the Southampton region. Following this he was selected for the prestigious Canadian Orthopaedic Association Fellowship in Arthroscopic Surgery. This training took place in Toronto, Canada. During this time he was involved in the management of professional athletes from the Toronto Blue Jays (Baseball) and the Toronto Maple Leafs (Ice Hockey). In addition to this, Mr Sharma undertook an Arthroplasty Fellowship at Sunnybrook Hospital's esteemed Holland Orthopaedic and Arthritic Centre also in Toronto, Canada.
His surgical practice is almost exclusively hip and knee surgery, with particular expertise in arthroscopic (keyhole) surgery, ligament reconstruction, articular cartilage repair, surgical management of arthritis in the young patient, patellofemoral problems, joint replacement and revision surgery. He also has extensive experience of managing trauma patients. Mr Sharma has a particular interest in the management of acute knee injuries, and runs an acute knee injury clinic at Manchester Royal Infirmary.
During his medical career Mr Sharma has given National and International presentations at prestigious scientific conferences. He has always been actively involved in basic science and clinical research. Consequently he has published many scientific articles in world renowned Orthopaedic Surgery Journals. Mr Sharma has authored several chapters for Orthopaedic Surgery textbooks, and in addition has written a book to help trainee surgeons prepare for the FRCS examination.
Mr Sharma is actively involved in teaching medical students from the University of Manchester.
Practice Locations
BMI The Alexandra Hospital
-
01614283656
Secretary Information
Lorna Brindley

[javascript protected email address]

01614497442