Scapulo Thoracic Keyhole Surgery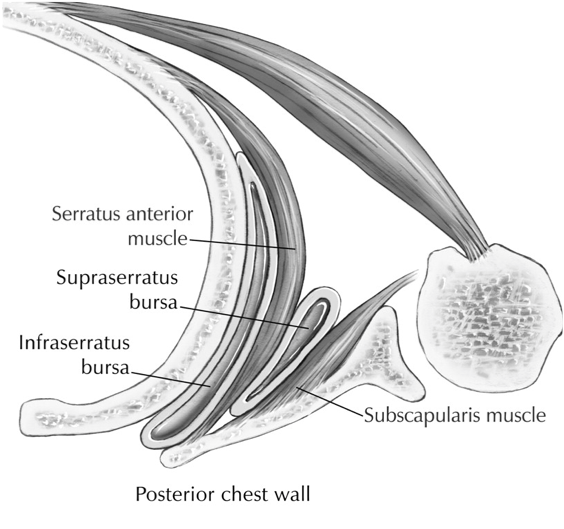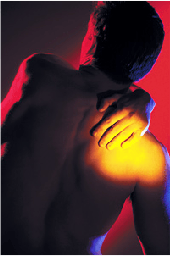 Joint between the Scapula and Chest Wall we perform keyhole surgery for this area which is very specialised service and not readily available. Our experience is shared below.
Disruption of the smooth gliding motion between scapula and thoracic cage secondary to:
Bursitis
Osseous abnormalities
Muscle/soft tissue
abnoramalities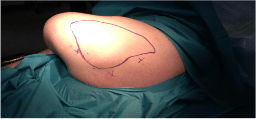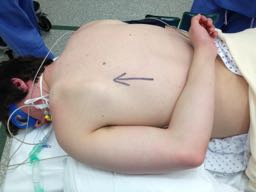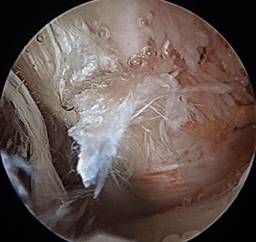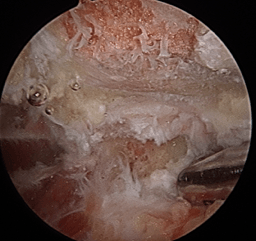 Patient undergoing Scapulo-thoracic arthroscopy having bone impingement excised and the two images below show pre and post bone resection.
Introduction
Patients with scapulothoracic syndrome present with pain in the scapulothoracic area aggravated by overhead and repetitive shoulder movements. The aim of our study was to assess the outcome of scapulothoracic arthroscopic treatment in patients with painful snapping scapula in our institution.
Methods
Fourteen patients underwent scapulothoracic arthroscopic treatment for painful snapping scapula. Pre-operatively, all these patients had a trial of conservative treatment modalities for at least 6 months.
Two portals along the medial border of scapula were used for arthroscopy and instrumentation. In three cases a superior portal was also used. The arm was placed in the "chicken wing" position so that the scapula lifted up from the chest wall. Outcome was assessed using pre and postoperative pain visual analogue score and Oxford Shoulder Score.
Results
Of the fourteen patients included in our study, ten were female and four were male patients. Mean age at the time of surgery was 27.6 years. Mean follow up was 35.7 months. Pain visual analogue score improved significantly from a mean of 8.8 preoperatively to 2.5 postoperatively (P value 0.00002). There was also a significant improvement in Oxford Shoulder Score from a mean of 10.8 to 40.9 (P= 0.00001). Mean crepitus score significantly decreased from 2.6 to 0.21 (p < 0.00001). Crepitus completely resolved in eleven patients. In three there was residual palpable crepitus but they had good pain relief.
Conclusion
Arthroscopic scapulothoracic treatment provides significant pain relief and functional improvement for painful snapping scapula symptoms not responding to non-surgical treatment modalities.
Outcome of Scapulothoracic Arthroscopy for Painful Snapping Scapula.