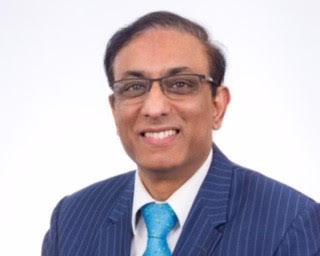 Education
MBBS MS(Orth) FRCS(Tr and Orth)
Specialities
Minimally Invasive Procedures, Micro-surgery, Deformities
Areas of Interest
Back pain, Orthopaedics, Degenerative spine disorders, Spinal surgery, Microsurgery, Minimal access / invasive surgery, Neck pain, Lower back pain, Arm pain, Sciatica, Disc replacement, Discectomy, Micro discectomy, Lumbar decompression, Spinal deformity, Adult scoliosis, Spinal fractures, Kyphoplasty, Vertebroplasty, Spinal injections, Epidurals, nerve root injections, Facet joint injections, Cervical spinal disorders, Wallis ligament, Xlif surgery, Keyhole surgery, Radiofrequency denervation, Denervex, Cervical spine surgery, Disc replacement surgery, Spinal fusion surgery
About
I have been qualified as a Consultant Spinal Surgeon for over 11 years. Prior to that I received training from leading orthopaedic surgeons and neurosurgeons in order to develop the best possible expertise. My initial orthopaedic training took place in the Wessex region, after which I undertook specialist training as a fellow in the spinal unit at Southampton University Hospital. I went on to be awarded the national spinal fellowship from the Yorkshire Deanery. The combination of multidisciplinary and sub-specialist training has allowed me to develop my practice to a higher degree than would otherwise be possible.
I am now confidently trained to deal with an array of spinal conditions; ranging from those relating to the neck and upper back to those in the lower back and coccyx/sacrococcygeal area.
I regularly train surgeons in different parts of the world on these areas and several others, often introducing them to the latest techniques and developments.
The advancements in minimally invasive (key hole) surgery such as microdiscectomies, spinal and sacroiliac joint fusions, XLIF, vertebroplasty and kyphoplasty have been astonishing. They allow for a much faster recovery time for patients, together with less pain after surgery and a quicker return to normal activities. Technological improvements mean that these procedures are also extremely safe and have a track record of proven results. I offer all of them as part of my practice at the Spire Regency.
My NHS practice is based at Stepping Hill Hospital in Stockport, where I am the most senior spinal surgeon and clinical lead. Over the last decade I have been at the forefront of bringing the latest advancements in treatment and technology to the Trust. I am also an honorary consultant at Leeds Spinal Neurosurgical Unit where I keep abreast with surgical advancements for complex spinal conditions.
In terms of my academic commitments, I hold the post of Honorary Senior Clinical Lecturer at Edge Hill University. This supplements my commitment to the MCh Clinical Training Programme. My active involvement across these organisations has allowed me to help reshape the provision of spinal services across the Greater Manchester area.
My number one goal is to give my patients the best possible outcome for their spinal problems. Although I have talked a bit about surgery, for the sake of reassurance I would like to clarify that coming to me does not always mean you will need an operation on your spine! In fact, the majority of cases I come across can be helped without surgery. Together with our specialist physiotherapist teams, chiropractors, pain consultants and other colleagues I always formulate the best treatment plan going forward.
You can also visit my website at www.manchesterspineclinic.co.uk
You can visit his personal website at www.manchesterspineclinic.com
Practice Locations
Mill Lane CHEADLE SK8 2PX
-
01614957789
West Street MACCLESFIELD SK11 8DW
-
01625507465
Secretary Information
Helen Farghaly

[javascript protected email address]

01614957789
Naomi

[javascript protected email address]

01625507465